Interview with Elliot Aronson, PhD
BEN'S "ELLIOT ARONSON REVISITED" INTERVIEW

See below to download the "Elliot Aronson Revisited" interview. It is the sequel to our exceptional 2010 Q&A Interview with the legendary social psychologist, Elliot Aronson, PhD., author of Not By Chance Alone: My Life As A Social Psychologist.
Elliot's Extraordinary 2010 Interview. As preparation, I promise you will absolutely enjoy listening to Elliot's 2010 interview. There was a huge international audience in attendance. Elliot was incredibly engaging, authentic, wise, funny at times, telling wonderful stories and giving great answers to each question. You can listen to it online here or download it as an MP3 here or read a wonderful transcript of it here, complete with embedded images and links. However for maximum impact, I recommend that you listen to the full interview instead.
TO RECEIVE THE RECORDING of the 2016 "Elliot Aronson Revisited" Interview, just submit your first name and email here:
Thanks for stopping by! (You will love Elliot's interview.) You'll also receive a complimentary subscription to the eMC News, our monthly enewsletter and can opt out at any time. Your privacy and email address are safe with us.
Elliot Aronson: The Scientist and the Humanist (33 mins)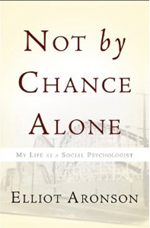 How does a boy from a financially and intellectually impoverished background grow up to become a Harvard researcher, win international acclaim for his groundbreaking work, and catch fire as a pioneering psychologist? As the only person in the history of the American Psychological Association to have won all three of its highest honors-for distinguished research, teaching, and writing- Elliot Aronson is living proof that humans are capable of capturing the power of the situation and conquering the prison of personality.
A personal and compelling look into Aronson's profound contributions to the field of social psychology, Not by Chance Alone is a lifelong story of human potential and the power of social change.