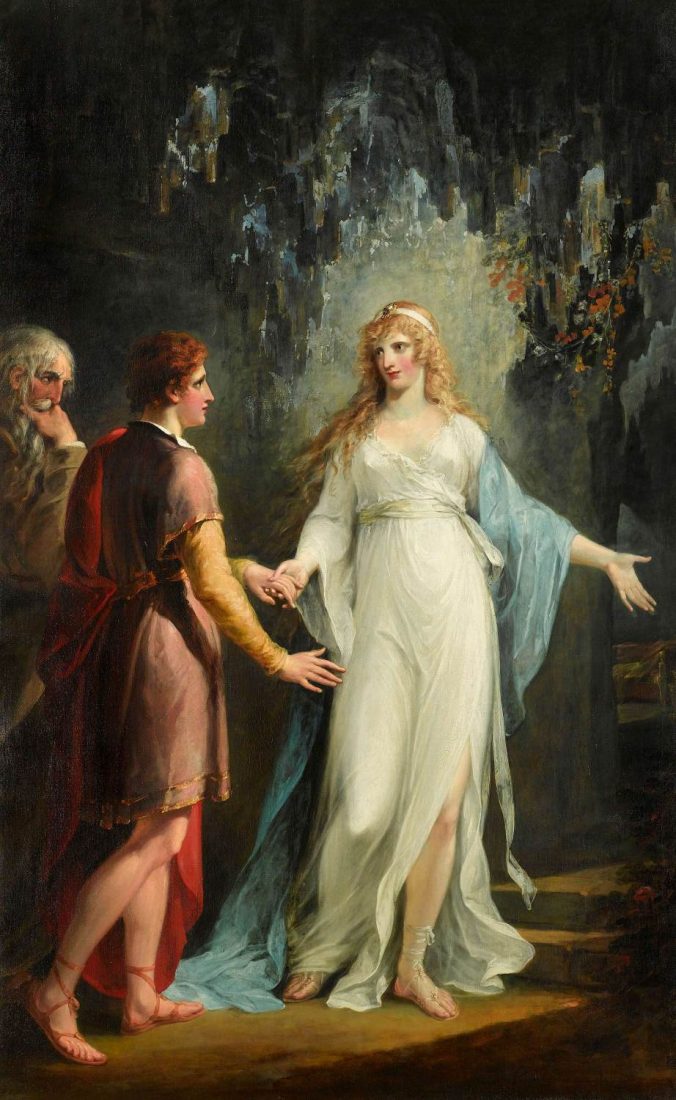 Calypso receiving Telemachus and Mentor in the Grotto (1791)
Oil on canvas, 203 x 159 cm
Painted by William Hamilton
(b. 1751. London. d. 1801 London)
The story depicted in the present painting is narrated by homer in The Odyssey.
Telemachus, Odysseus's son, and Mentor, Odysseus's long-time friend, go on a journey to find out news about Odysseus' whereabouts after he has been missing for twenty years.
For seven of those years, he was imprisoned on the nymph Calypso's island, until the gods intervened and forced her to let him go.
When Telemachus and Mentor shipwreck on her island, Calypso is still mourning the loss of her beloved Odysseus.
She immediately recognizes the similarity between Odysseus and Telemachus, and knows that he is the son of the hero.
She pretends not to know who he is, and tells him that no one is to enter her island.
Telemachus tells her who his father is, and asks for her mercy. Calypso is so impressed by the youth, she offers him a warm greeting and shows him the natural beauty of her island.
She reveals to him that his father Odysseus had in fact been to her island, and she laments his having left her broken-hearted.
Telemachus regales her with stories of his adventures prior to his landing at her island.
Hamilton's painting is dominated by the statuesque figure of Calypso who looks like a powerful and seductive temptress in her classically inspired white dress casually wrapped to reveal her figure.
The painting was exhibited at the Royal Academy, London in 1791.