THE Q&A INTERVIEW WITH CAROL DWECK, Ph.D.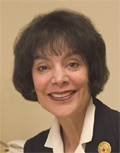 On June 18, 2010, we had a wonderful interview with Carol Dweck, Ph.D., world-renowned Stanford University psychologist and author of Mindset: The New Psychology of Success. Carol drew the largest audience we've ever had for a super star interview. There were loads of great questions from callers from all over the world. It was a great call.
TO RECEIVE THE RECORDING AND ADDITIONAL MATERIALS, fill out the form below.