BEN'S INTERVIEW WITH LEA WATERS, PhD
On October 5, 2017, we had a question-and-answer call with Lea Waters, PhD, President of the International Positive Psychology Association (IPPA), the Gerry Higgins Chair in Positive Psychology at the University of Melbourne, Professor and Founding Director of the Positive Psychology Centre at the University of Melbourne and author, The Strength Switch: How The New Science of Strength-Based Parenting Can Help Your Child and Your Teen to Flourish.
TO RECEIVE THE RECORDING, submit your name and email address here:
You'll also receive a complimentary subscription to
The eMentorCoach News, our monthly enewsletter, and can opt out at any time.
Your privacy and email address are safe with us.
ABOUT LEA WATERS, PhD

Lea Waters, PhD, author of The Strength Switch: How The New Science of Strength-Based Parenting Can Help Your Child and Your Teen to Flourish, holds the Gerry Higgins Chair in Positive Psychology at the University of Melbourne. Lea serves as President of the International Positive Psychology Association and is Founding Director of the Positive Psychology Centre at the University of Melbourne.
She is also a psychologist, researcher, speaker and author who specializes in positive education, positive parenting, and positive organizations.
She holds affiliate positions with Cambridge University and University of Michigan and is the Ambassador for the Positive Education Schools Association. She has published close to 100 scientific articles and book chapters. In 2015, she was listed as one of Australia's Top 100 Women of Influence by the Financial Review and Westpac Bank. Lea is a registered psychologist with AHPRA and has been a member of the Australian psychological Society for 24 years.
Lea is a highly regarded speaker and has received invitations to be the Key Note speaker at conferences across the world including the International Positive Educations World Congress, the International Positive Psychology Associations World Congress, the International Conference on the Science of Happiness, the Canadian Positive Psychology Associations National Conference, the Mexican National Conference on Happiness and the New Zealand Positive Psychology Associations National Conference.
A gifted teacher and facilitator, Lea has been awarded International and National Teaching Awards including the Management Educator of the Year (2004) by the Australian and New Zealand Academy of Management and two National Teaching Excellence Awards from the Australian Government (2008, 2011).
Her Positive Education program, called Positive Detective, is being used in schools in United States, Canada, United Kingdom, Mexico, Finland, Ghana, Singapore, China, Hong Kong, Indonesia, Australia, and New Zealand. Her Visible Wellbeing initiative is being run in schools across Western Australia, South Australia, New South Wales, Tasmania, Queensland and Victoria in both the State and Independent Education systems.
Lea's recent research sits at the intersection between positive organizational scholarship and educational psychology with a focus on how to create schools as positive institutions. Her focus is both at the student-level and staff-level and she researches the applications of positive psychology in classrooms, staff rooms, and school-wide cultural practices. At the student level, she is calling for schools to consider that curriculum which builds student character and well-being is of equal importance to curriculum focusing on academic achievement. She has researched mindfulness in schools together with examining the effects of positive education interventions on student hope, optimism, and resilience. She has also called for a greater focus on staff wellbeing and cultural virtues in schools. At the staff level, she has applied Cameron's Organizational Virtues model as well as Cooperider's Appreciative Inquiry technique to examine the factors that build a positive institutional culture in schools.
ABOUT THE STRENGTH SWITCH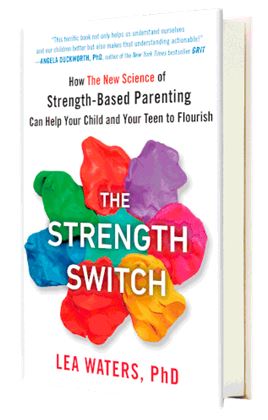 In The Strength Switch, Lea Waters shows us how to unlock our children's potential by helping them build their strengths.
This game-changing book shows us the extraordinary results of focusing on our children's strengths rather than always trying to correct their weaknesses. Most parents struggle with this shift because they suffer from a negativity bias, thanks to evolutionary development, giving them "strengths-blindness." By showing us how to throw the "strengths switch," Lea Lea demonstrates how we can not only help our children build resilience, optimism, and achievement but we can also help inoculate them against today's pandemic of depression and anxiety.

As a strengths-based scientist for more than twenty years, ten of them spent focusing on strengths-based parenting, Lea has seen how this approach enhances self-esteem and energy in both children and teenagers. Yet more on the plus side: parents find it a particularly exciting and rewarding way to raise children. With many suggestions for specific ways to interact with your kids, Lea demonstrates how to discover strengths and talents in our children, how to use positive emotions as a resource, how to build strong brains, and even how to deal with problem behaviors and talk about difficult situations and emotions. As revolutionary yet simple as Mindset and Grit, The Strength Switch will show parents how a small shift can yield enormous results.
WHAT PEOPLE ARE SAYING ABOUT THE STRENGTH SWITCH
"As parents, we often obsess about fixing our children's weaknesses and neglect the importance of developing their strengths. This book is full of concrete ideas on how to change that."
-Adam Grant, PhD, New York Times-bestselling author of Originals and Give and Take

"Practical tips for parents from the wise and wonderful Lea Waters! So many parents, including me, struggle to translate scientific research into real-world strategies. This terrific book not only helps us understand ourselves and our children better but also makes that understanding actionable!"
-Angela Duckworth, PhD, author of the New York Times bestseller Grit

"The Strength Switch gives parents hope that they can build their children's creativity. By sharing parts of her own story of overcoming hardship, and presenting the latest science of positive psychology, Dr. Waters not only inspires parents to bring out the best in their children, but she inspires us all to be the best version of ourselves. A wise and warm book!"
-Scott Barry Kaufman, PhD, co-author of Wired to Create: Unraveling the Mysteries of the Creative Mind

"This book will help you do something groundbreaking for your children-shift your view to see their best and help them develop their unique strengths. Follow the wisdom here and you will bring deep, lasting benefit to not only your child but yourself. Thanks to Dr. Lea Waters, strengths-based parenting has arrived!"
-Ryan M. Niemiec, PsyD, author of Character Strengths Interventions

"Lea Waters's expertise, hope, and heart shine through the pages of The Strength Switch. She deftly draws on the science of positive emotions to help readers appreciate the vital role positivity plays in moving through hard times. This book will be a game-changer for unlocking your child's potential."
-Barbara L. Fredrickson, PhD, author of Positivity and Love 2.0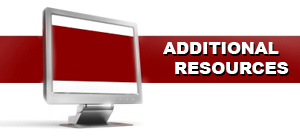 Video: TEDx Melbourne. Warning: Being positive is not for the faint hearted! (19 mins)
Video: Strength Based Parenting
Lea's presentation on Strength Based Parenting at the 4th International Forum on the Science of Haoppiness in Mexico 2016 (49 mins)

Video: A Conversation with Professor Lea Waters. (18 mins)
Centre for Positive Psychology
Positive Detective
A wellbeing and positive education program for schools. It encourages students to find the good in their world and share it with others to increase their own happiness and those of others.