BEN'S INTERVIEW WITH DEREK SIVERS
On July 14, 2011, we had a wonderful interview with Derek Sivers, entrepreneur and musician and author of the best selling book, Anything You Want: 40 Lessons for a New Kind of Entrepreneur, who founded CD Baby at 27 and sold it ten years later for $22 Million which he largely gave away.
TO RECEIVE THE RECORDING, fill out the form below.
You'll also receive a complimentary subscription to
Ben's monthly email newsletter, The Coaching Toward Happiness News.
And please know your email address is safe with us.
We will not share or sell your email address or personal information to any person, organization, or third party.
ABOUT DEREK SIVERS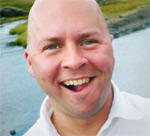 Derek Sivers is best known as the founder of CD Baby. A professional musician (and circus clown) since 1987, Derek started CD Baby by accident in 1998 when he was selling his own CD on his website, and friends asked if he could sell theirs, too. CD Baby was the largest seller of independent music on the web, with over $100M in sales for over 150,000 musician clients. After he won the 2003 World Technology Award, Esquire Magazine's annual "Best and Brightest" cover story said, "Derek Sivers is changing the way music is bought and sold... one of the last music-business folk heroes." In 2008 in his 30's, Derek sold CD Baby for $22 Million, which he largely gave away. Now his focus is on his new ventures to benefit musicians, including his new company MuckWork where teams of efficient assistants help musicians do their "uncreative dirty work". His current projects and writings are all at sivers.org. He has just published his first book, the bestselling Anything You Want. He and his wife are currently living in Singapore.
DEREK'S FAVORITE INTERVIEW EVER.
Ronnie Overgoor in Rotterdam, Holland. (Warning: swear words).
ABOUT DEREK'S BOOK, ANYTHING YOU WANT: 40 LESSONS FOR A NEW KIND OF ENTREPRENEUR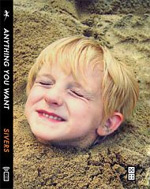 It's small (77 pages), well written, and intends to give you ten years of experience in one hour. It also comes with free MP3 Download links to his favorite music--a huge amount (242 songs, 1.5 GIGS).
In a great review for Forbes, Michael Ellsberg writes:
"One of the best hours you'll ever spend will be reading Derek Sivers's new book, out today, Anything You Want….This book…astonished me with the sheer concentration of fresh insights on business and entrepreneurialism, in such a small space.
"The book follows the often-gripping story of how Sivers founded CDBaby.com in 1998 with $500, grew it to with no outside investors ever, lead the company through hypergrowth, and sold it for $22 million in 2008 when it had grown too large for his leadership tastes. Right before selling, he donated the company to a charitable trust for music education, so all the proceeds from the sale went to the charitable trust.
"Sivers uses his own story primarily to illustrate his bevy of practical take-aways…." Full review.
DEREK AND POSITIVE PSYCHOLOGY
Derek provides detailed notes on books he's read recently here. Both the attitude in his book and his reading choice indicate a real interest in positive psychology. For example, recent choices have included:
The Happiness Hypothesis - by Jonathan Haidt
The Geography of Bliss - by Eric Weiner
The Time Paradox - by Philip Zimbardo and John Boyd
The Paradox of Choice - Why More is Less - by Barry Schwartz
Stumbling on Happiness - by Daniel Gilbert
Mindset - by Carol Dweck
Rapt - by Winifred Gallagher
The How of Happiness - by Sonja Lyubomirsky
THE MOST SUCCESSFUL EMAIL DEREK EVER WROTE
When he started CD Baby, every customer got a standard email, "Your order has shipped today. Please let us know if it doesn't arrive. Thank you for your business."
"After a few months, that felt really incongruent with my mission to make people smile. I knew I could do better. So I took twenty minutes and wrote this goofy little thing….This one silly email, sent out with every order, has been so loved that if you search Google for "private CD Baby jet," you'll get almost twenty thousand results. Each one is somebody who got the email and loved it enough to post it on his website and tell all his friends."
Here's the note he wrote:
"Your CD has been gently taken from our CD Baby shelves with sterilized contamination-free gloves and placed onto a satin pillow…" MORE
RESOURCES
Derek's Personal Website. sivers.org
CD Baby. In 1997, Derek founded CD Baby, the largest online distributor of independent music.
Derek Sivers Sold CD Baby for $22 Million, Giving Most of It Away. Wired Magazine. 10/24/08.
Derek Sivers. Wikipedia.
Nobody's going to help you. Does that encourage you or discourage you?
Whatever scares you or excites you, go do it
Eliminating the time between thinking something and doing it.
MuckWork. Derek's site for outsourcing support tasks for musicians.
DEREK'S VIDEOS
Obvious to you. Amazing to others.
Ted Talk: How to start a movement.
Derek Sivers' speech to Berklee College of Music: 6 Things I Wish I Knew When I Was Starting at Berklee.
Musicians and Entrepreneurs (40 minutes)
Ted Talk: Weird or Just Different
Marketing Advice for the Internet (focused for Indie artists but has generality)