BEN'S INTERVIEW WITH JAMIE PENNEBAKER, Ph.D.
On August 26, 2011, we had a wonderful interview with psychologist Jamie Pennebaker, Ph.D., whose forthcoming book The Secret Life of Pronouns: What Our Words Say About Us details how the smallest, most commonly used, most forgettable words serve as windows into our thoughts, emotions, and behaviors.
Book Launching--publication date August 30, 2011.
TO RECEIVE THE INTERVIEW RECORDING AND ADDITIONAL MATERIALS, fill out the form below.
You'll also receive a complimentary subscription to
Ben's monthly email newsletter, The Coaching Toward Happiness News.
And please know your email address is safe with us.
We will not share or sell your email address or personal information to any person, organization, or third party.
ABOUT JAMIE PENNEBAKER, Ph.D.
Jamie Pennebaker, Ph.D., is an internationally recognized social psychologist who's endlessly curious about human nature. His latest book is The Secret Life of Pronouns.
In his earlier work, Jamie learned that keeping secrets can make people sick. This work led to his discovery that people could improve their physical and mental health by writing about their deepest secrets, which is now widely known as expressive writing.
Jamie's popular book Opening Up: The Healing Power of Expressing Emotion and Writing to Heal focuses on the therapeutic value of expressive writing.
Most recently, he's become intrigued by how people reveal themselves in their everyday spoken and written language.
Jamie Pennebaker is Regents Centennial Liberal Arts Professor and Chair of the Department of Psychology at the University of Texas at Austin.
He's a member of the Academy of Distinguished Teachers and a consultant to businesses, medical schools, and various federal agencies that address corporate and national security issues. Jamie is the author or editor of 10 books and almost 300 scientific articles. He ranks among the most cited researchers in psychology, psychiatry, and the social sciences.
Jamie grew up in Midland, Texas. He has been married to the accomplished writer Ruth Pennebaker since 1972. His daughter Teal works in communication and public policy in Washington, D.C. and his son Nick is involved in oil and gas exploration in Austin, Texas.
ABOUT THE SECRET LIFE OF PRONOUNS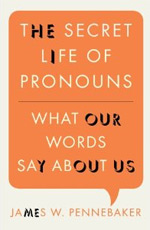 The Secret Life of Pronouns: What Our Words Say About Us, which will be published August 30, traces the discovery of the links between function words and social and psychological states. Written for a general audience, the book takes the reader on a remarkable and often unexpected journey into the minds of authors, poets, lyricists, politicians, and everyday people through their use of words.
At the heart of this book is the idea that our words leave indelible fingerprints of personality, our relationships and backgrounds, and even our plans for the future. Once you see the power of pronouns, articles, and other function words, you will better understand:
• How Tweets and Facebook posts can tell us about the personality of their authors.
• Why lying to others and to ourselves causes us to talk differently.
• How it's possible to predict if two people will fall in love by counting the function words the two people use in their first conversation with one another.
• When we can predict a person's age, sex, where they live, and what their background is by analyzing their conversations or emails.
• Why self-confident leaders rarely use the word "I" and insecure and depressed people do.
• How writing about an emotional upheaval using particular linguistic styles can help you get past it.
• Why analyzing your own emails, letters, and natural conversations can tell you about yourself and the relationships you cherish most
READ THE BEGINNING TO
THE SECRET LIFE OF PRONOUNS: WHAT OUR WORDS SAY ABOUT US
CHAPTER 1
Discovering the Secret Life of the Most Forgettable Words

Good morning everyone! Have a fabulous day! Xoxo Paris :)
-Paris Hilton, media personality
went to the mountains above Beirut yesterday to meet with Walid Jumblatt--the leader of the Druze--fascinating experience.
-John McCain, U.S. Senator
Hanging out with friends--"pom" martinis- getting ready to watch xmas special. 10 eastern 9 central. Going caroling afterward!
-Oprah Winfrey, media mogul and television host
time to drink a bottle of wine and sketch for the new tour. st.louis was brilliant. there's eyeliner on my knee, and blood on my elbow. shady
-Lady Gaga, singer and songwriter
Over 100,000 years ago, our ancestors began talking. About 5,000 years ago, humans started writing. In the last 150 years, we adopted everything from the telegraph, radio, and television to e-mail, text messages, blogs, and other social media. The ways we connect with one another may have changed but we still are compelled to communicate our ideas, experiences, and emotions to those around us.
Beginning in 2006, we began to use Twitter. Anyone with a Twitter account can broadcast brief updates, or "tweets," that can be instantly read by almost anyone. On a minute-by-minute basis, you can know what your friends or even world- famous celebrities are thinking. Many readers may wonder why people would want to do this. However, once you immerse yourself in the Twitter world, you can begin to appreciate some of its appeal.
Look back at the four tweets that begin this chapter. MORE >>
Resources
Pennebaker home page
The Secret Life of Pronouns
Chung, C. and Pennebaker, J. The Psychological Function of Function Words

pennebaker_clip1v2.mp4 13-Jul-2011 16:03
pennebaker c _clip2.mp4 11-Jul-2011 15:51
pennebaker_clip3.mp4 11-Jul-2011 16:03
pennebaker_clip4.mp4 11-Jul-2011 16:10
pennebaker_clip5v2.mp4 13-Jul-2011 16:15
pennebaker_clip5v3.mp4 18-Jul-2011 12:01
Audio interview
Writing to Ease Trauma