Interview with Kate Hays, Ph.D.
On July 17, 2009, we had a wonderful interview with one of the world's leading authorities on Performance Psychology and positive psychology--Kate Hays, Ph.D., editor of the new book, Performance Psychology in Action.
To receive a recording of the interview, submit your name and email address here:
ABOUT KATE HAYS, Ph.D.
Kate F. Hays, Ph.D., C.Psych., has been practicing psychology since 1971, first in New Hampshire and currently in Toronto. With a background in clinical psychology (Ph.D. from Boston University), for the past 20 years she has developed expertise in Sport Psychology, and more recently, as a leader in the emerging field of Performance Psychology.
Dr. Hays has lectured widely throughout North America, England, and Australia. In the spring of 2008, she was invited by Dr. Martin Seligman to be a Visiting Scholar in the Positive Psychology programme at Geelong Grammar School in Australia. Currently, with colleagues, she is developing a special interest group on sport and exercise psychology within the International Positive Psychology Association and a special interest group on positive psychology within the Association for Applied Sport Psychology.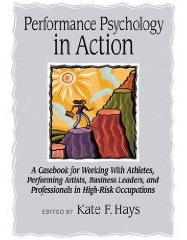 Dr. Hays' most recent book, the edited Performance Psychology in Action (APA, 2009), complements her co-authored You're On! Consulting for Peak Performance (APA, 2004). Her combined interests in exercise and psychotherapy resulted in three earlier books, Move Your Body: Tone Your Mood (New Harbinger Publications, 2002), Working it Out: Using Exercise in Psychotherapy (APA, 1999) and the edited Integrating Exercise, Sports, Movement, and Mind: Therapeutic Unity (Haworth, 1998).
Dr. Hays is licensed as a psychologist in the state of New Hampshire and the province of Ontario. She is a Fellow of the American Psychological Association (Division of Exercise & Sport Psychology, Division of Psychotherapy, Division of Independent Practice, and the Society for the Psychology of Women), and a Fellow and Certified Consultant of the Association for Applied Sport Psychology. She is listed in the U.S. Olympic Committee Sport Psychology Registry.
Active in state, provincial, and national psychology and sport psychology governance, Dr. Hays represents the province of Ontario on APA's Council of Representatives and is a member of APA's Committee on Structure and Function of Council. She also serves as Art Co-Editor for APA's flagship journal, American Psychologist. She is past-Chair of the International Sport Psychology Council and is Past-President of APA's Division of Exercise & Sport Psychology. In 2004, she received the Bruce Ogilvie Award for Professional Practice from APA's Division of Exercise & Sport Psychology.
For the past number of years, Dr. Hays has been conducting consultation groups for advanced graduate students and practitioners in sport and exercise psychology and performance psychology. In the fall of 2009, these consultation group meetings will become available internationally through teleseminar-type technology.