BEN'S INTERVIEW WITH EDWARD "NED" HALLOWELL, M.D.
On August 27, 2012, we had a riveting interview with New York Times bestselling author, world-renowned speaker, child and adult psychiatrist, and leading authority on ADHD, Edward "Ned" Hallowell.
TO RECEIVE THE RECORDING, just submit your name and email address here:.
Please know your email address is safe with us.
We will not share or sell your email address or personal information to any person, organization, or third party.
EDWARD HALLOWELL ON THE PATH TO PEAK PERFORMANCE

Edward "Ned" Hallowell, M.D. is a child and adult psychiatrist, bestselling author of 18 books, world-famous speaker and one of the world's leading authorities in the field of ADHD. He was a faculty member at Harvard Medical School from 1983 to 2004, graduated from Harvard College and Tulane School of Medicine, and is the founder of The Hallowell Centers for Cognitive and Emotional Health in Sudbury, MA and New York City. These Centers offer comprehensive mental health diagnostic and treatment services to patients and their families.
Ned is best known for the ground-breaking ADHD books he co-authored with Dr. John Ratey, Driven to Distraction and Delivered from Distraction, which have sold millions of copies. With decades of experience working with people who have ADHD, Dr. Hallowell has long argued that ADHD is too often misunderstood, mistreated, and mislabeled as a "disability" and that the gifts of this condition are easily lost amid negative comments. His strength-based approach to dealing with ADHD has helped countless people with this diagnosis, and offers successful strategies for the parents, spouses, teachers and health professionals who work in this field.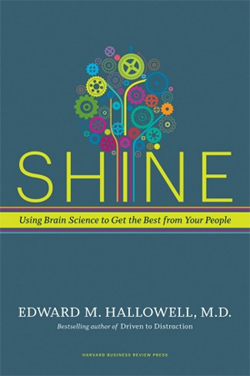 Ned's most recent book is SHINE: Using Brain Science to Get the Best from Your People, which addresses issues around job dissatisfaction, underachievement, resignation and failure to thrive at work-themes commonly addressed in coaching agendas. The book is actually a treatment manual on how to reach peak performance at work and personal life. SHINE is an acronym for Special Help Integrating Neurological Experience. Ned discusses the best strategies for career selection and the importance of working in a "positively connected environment" that is high on trust and low on fear, high on encouragement and low on put-downs, and high on both challenge and support. Other key factors contributing to "shining" at work and in personal life are opportunities for continued learning and using play and imagination, when the brain is operating at its highest level and creating spontaneous new solutions and adaptations. Ned believes that next to true love, a passionate engagement with work may be life's greatest sustained reward.
A highly recognized public figure, Ned has appeared on numerous national television programs including Oprah, Dr. Oz, 20/20 Dr. Phil, 60 Minutes, CNN, The Today Show, Good Morning America, and The View. He has been interviewed for The New York Times, USA Today, Newsweek, Time Magazine, U.S. News and World Report, the Los Angeles Times, and many other leading publications.
An authority on lifelong personal betterment and fulfillment, Ned's presentations and books cover various psychological topics including the power of the human connection, the childhood roots of happiness, methods of forgiving others, dealing with worry, and managing excessive busyness. The intriguing titles of these books, useful for coaching and mental health professionals as well as lay audiences, include: Connect: 12 Vital Ties That Open Your Heart, Lengthen Your Life, and Deepen Your Soul, Childhood Roots of Adult Happiness, Overloaded Circuits, Dare to Forgive, CrazyBusy, and Human Moments.
Ned lives in the Boston area with his wife, Sue, a social worker, and their three children. And he truly "walks his talk" in managing a busy life: his greatest love is spending one summer month at the aptly-named Lake Doolittle, where his family connects and slows down, doing just what they want to do.
ADDITIONAL RESOURCES:
Visit Ned's website.
Read descriptions and samples of all Ned's books.
Keep current on recent ADHD thinking and research by reading Ned's blog.
Follow Ned's strategies for a healthier emotional life.

Check out Ned's article, "Will Focus Make You Happier?" in the Harvard Business Review on the relationship between focus and happiness