THE Q&A INTERVIEW WITH CAROL DWECK, Ph.D.
On June 18, 2010, we had a wonderful interview with Carol Dweck, Ph.D., world-renowned Stanford University psychologist and author of Mindset: The New Psychology of Success. Carol drew the largest audience we've ever had for a super star interview. There were loads of great questions from callers from all over the world. It was a great call.
TO RECEIVE THE RECORDING AND ADDITIONAL MATERIALS, fill out the form below.
You'll also receive a complimentary subscription to
Ben's monthly email newsletter, The Coaching Toward Happiness News.
And please know your email address is safe with us.
We will not share or sell your email address or personal information to any person, organization, or third party.
Carol Dweck discusses 'growth' versus 'fixed' minds
RESOURCES CAROL REFERS TO IN OUR INTERVIEW
During our 80 minute interview, Carol periodically promised to send additional information. Here's what she sent:
1. You can grow your intelligence: New research shows the brain can be developed like a muscle. Health & Science News You Can Use
2. Implicit Theories of Health Scale. Mueller, Claudia M. & Dweck, Carol S. (2009)
3. Intelligence Mindsets Assessment
4. Mindset Measure for Change
ABOUT CAROL S. DWECK, Ph.D.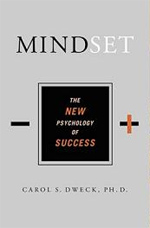 Carol S. Dweck, Ph.D., is one of the world's leading researchers in the field of motivation and is the Lewis and Virginia Eaton Professor of Psychology at Stanford University.
Her research focuses on why people succeed and on how to foster their success. More specifically, her work has highlighted the critical role of mindsets in business, sports, and education, and for self-regulation and persistence on difficult tasks in general. In addition, she has shown how praise for ability or talent can undermine motivation and learning. Her recent book Mindset: The New Psychology of Success (published by Random House) has been widely acclaimed and is being translated into 17 languages.
She has also co-developed Brainology (www.brainology.us), an award winning online program that helps middle school and high school students gain confidence and motivation to learn by teaching them about the brain, how to strengthen it, and how to apply brain-friendly study skills.
Carol's Stanford University Website
The Wall Street Journal: The Praise a Child Should Never Hear
The Chronicle of Higher Education: "Carol Dweck's Attitude: It's not about how smart you are." (June 9, 2010)
Good Morning America: Why Praise Can Be Bad for Kids (While Specific Praise Can Be Good, Too Much Praise Can Bring Down Kid's Performance)
Education World Interview with Carol: How Can Teachers Develop Students' Motivation -- and Success?
NPR Audio Interview with Carol