BEN'S INTERVIEW WITH RICHARD J. DAVIDSON, PH.D.
On June 29, 2012, we had a riveting Q&A Interview with eminent psychologist, neuroscience research director, and author--Richard J. Davidson, Ph.D.
TO RECEIVE THE RECORDING, just submit your name and email address here:.
Please know your email address is safe with us.
We will not share or sell your email address or personal information to any person, organization, or third party.

Dr. Richie Davidson talking about his new book (4 mins)
ABOUT RICHARD J. DAVIDSON , PH.D.
Dr. "Richie" Davidson is the William James and Vilas Professor of Psychology and Psychiatry, Director of the Waisman Laboratory for Brain Imaging and Behavior and the Laboratory for Affective Neuroscience, and Founder and Chair of the Center for Investigating Healthy Minds at the Waisman Center, University of Wisconsin-Madison. He received his Ph.D. from Harvard University in Psychology and has been at Wisconsin since 1984.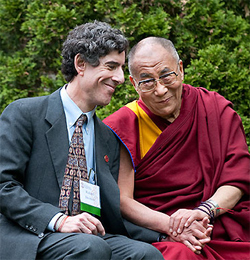 Richie is the recipient of numerous awards for his research including a National Institute of Mental Health Research Scientist Award, a MERIT Award from NIMH, an Established Investigator Award from the National Alliance for Research in Schizophrenia and Affective Disorders (NARSAD), a Distinguished Investigator Award from NARSAD, the William James Fellow Award from the American Psychological Society, and the Hilldale Award from the University of Wisconsin-Madison.
Richie was the Founding Co-Editor of the new American Psychological Association journal EMOTION and is Past-President of the Society for Research in Psychopathology and of the Society for Psychophysiological Research. He was also the year 2000 recipient of the most distinguished award for science given by the American Psychological Association - the Distinguished Scientific Contribution Award.
In 2011, he was given the Paul D. MacLean Award for Outstanding Neuroscience Research in Psychosomatic Medicine. He serves on the Scientific Advisory Board at the Max Planck Institute for Human Cognitive and Brain Sciences in Leipzig from 2011-2017 and is currently Chair of the Psychology section of the American Association for the Advancement of Science.
Richie has also been highly recognized in the popular press for advancing the understanding of the brain, having been named (in 2006) as one of the 100 most influential people in the world by Time magazine, and (in 2007) as Person of the Year by Madison Magazine.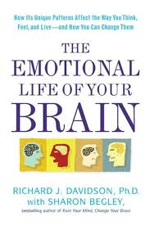 In 2008, Richie founded The Center for Investigating Healthy Minds, a research center within the Waisman Center at the University of Wisconsin-Madison which is dedicated to the study of positive qualities (such as kindness and compassion), how they develop, and how they might be nurtured. The Dalai Lama attended the Center's grand opening, and in May 2010 made an unsolicited grant from his personal trust of $50,000 to further the Center's research mission.
Richie has published more than 275 articles, many chapters and reviews and edited 13 books. He is the author (with Sharon Begley) of the just-published book: The Emotional Life of Your Brain: How Its Unique Patterns Affect the Way You Think, Feel, and Live--and How You Can Change Them.
The book offers a new model for understanding our emotions -- their origins, their power and their malleability. Davidson has discovered through his research that personality is composed of six basic emotional "styles," including resilience, self-awareness, and attention. Our emotional fingerprints are formed from where we fall on the continuum of each style. Richie explains the brain circuits that underlie each style, constructing a model of the emotional brain that are likely to affect the way we treat conditions like autism and depression. And, he provides strategies we can use to change our own brains and emotions--if we wish to do so.
ADDITIONAL RESOURCES:
VIDEO: 4/3/12 Wisconsin Academy Video of Richie Davidson giving an extended lecture to a large group of laypersons in Madison, Wisconsin (1:17). Be sure to look at the 6-minute trailer of the "Free the Mind" documentary that will be released later in 2012--showing the use of Richie's ideas with children. This trailer runs from 42:20 to 49:00.
Audio: March, 2012 interview with NPR's Diane Rehm
Podcast: Richie Davidson on Investigations of the Healthy Mind from an American Public Media On Being Podcast interview
Read recent reviews of Richie's new book in university publications and the popular press.
What people are saying about The Emotional Life of the Brain
Take a survey of your own Emotional Style of Resilience