DANIEL PINK INTERVIEW RECORDING

We had a wonderful interview with Dan Pink on Friday, October 1, 2010. He had been on the road speaking without a break since September 15th, both in the UK and US.
That day was no exception. He did the interview on his cell phone while being driven
home from a speaking engagement in Saint Michael's, Maryland. He was superb....
(NOTE: Please peruse the video and additional materials below.)
TO RECEIVE THE RECORDING, fill out the form below.
You'll also receive a complimentary subscription to Ben's monthly email newsletter, The Coaching Toward Happiness News. And please know your email address is safe with us. We will not share or sell your email address or personal information to any person, organization, or third party.
Daniel Pink on the surprising science of motivation
ABOUT DANIEL PINK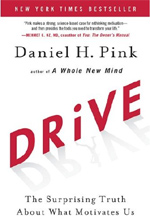 Daniel H. Pink is the author of four provocative books about the changing world of work, including the New York Times bestsellers, A Whole New Mind and Drive: The Surprising Truth About What Motivates Us, which together have been translated into 28 languages.
Drive: The Surprising Truth About What Motivates Us uses 50 years of behavioral science to overturn the conventional wisdom about human motivation and offer a more effective path to high performance. Drive reached every national bestseller list in its first month of publication and is now in its sixth month on the New York Times list. Over the next year, it will appear in Japanese, Korean, French, German, Spanish, and 19 other languages.
A Whole New Mind: Why Right-Brainers Will Rule the Future charts the rise of right-brain thinking in modern economies and describes the six abilities individuals and organizations must master in an outsourced, automated age. A Whole New Mind is a long-running New York Times bestseller that has been translated into 23 languages.
The Adventures of Johnny Bunko: The Last Career Guide You'll Ever Need is the first American business book in the Japanese comic format known as manga and the only graphic novel ever to become a BusinessWeek bestseller. Illustrated by award-winning artist Rob Ten Pas, The Adventures of Johnny Bunko has been translated into 14 languages.
Dan's first book, Free Agent Nation: The Future of Working for Yourself, was a Washington Post bestseller that Publishers Weekly says "has become a cornerstone of employee-management relations."
His articles on business and technology appear in many publications, including the New York Times, Harvard Business Review, Fast Company, and Wired, where he is a contributing editor. He also writes a monthly business column for the U.K. newspaper, The Sunday Telegraph. Dan has provided analysis of business trends on CNN, CNBC, ABC, NPR, and other networks in the U.S. and abroad. And he lectures to corporations, associations, and universities around the world on economic transformation and the new workplace.
A free agent himself, Dan held his last real job in the White House, where he served from 1995 to 1997 as chief speechwriter to Vice President Al Gore. He also worked as an aide to U.S. Labor Secretary Robert Reich and in other positions in politics and government.
He received a BA from Northwestern University, where he was elected to Phi Beta Kappa, and a JD from Yale Law School. To his lasting joy, he has never practiced law.
Dan lives in Washington, DC, with his wife and their three children.
Reviews of Drive: The Surprising Truth About What Motivates Us
"Pink's ideas deserve a wide hearing. Corporate boards, in fact, could do well by kicking out their pay consultants for an hour and reading Pink's conclusions instead."
- Forbes
"Pink's analysis-and new model-of motivation offers tremendous insight into our deepest nature."
- Publishers Weekly
"Pink makes a convincing case that organizations ignore intrinsic motivation at their peril."
- Scientific American
"Persuasive . . .Harnessing the power of intrinsic motivation rather than extrinsic remuneration can be thoroughly satisfying and infinitely more rewarding."
- Miami Herald
"These lessons are worth repeating, and if more companies feel emboldened to follow Mr. Pink's advice, then so much the better.
- Wall Street Journal
"Pink is rapidly acquiring international guru status . . . He is an engaging writer, who challenges and provokes."
- Financial Times
"Important reading…an integral addition to a growing body of literature that argues for a radical shift in how businesses operate."
- Kirkus
"Drive is the rare book that will get you to think and inspire you to act. Pink makes a strong, science-based case for rethinking motivation-and then provides the tools you need to transform your life."
-Dr. Mehmet Oz, co-author of YOU: The Owners Manual
"Pink's a gifted writer who turns even the heaviest scientific study into something digestible - and often amusing - without losing his intellectual punch."
- New York Post
"Enchanting . . . an important book offering a whole new way to think about motivation."
- Globe
Books by Daniel Pink