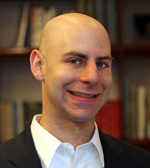 BEN'S INTERVIEW WITH ADAM GRANT, PhD
On April 26, 2013, we had a wonderful interview with Adam Grant, PhD, Organizational Psychologist, Highest-rated Professor at the Wharton School of the University of Pennsylvania, and author of the just-published Give and Take: A Revolutionary Approach to Success
TO RECEIVE THE RECORDING, just submit your name and email address here:.

You'll also receive a complimentary subscription to Ben's
monthly email newsletter, The eMentorCoach News. You can
unsubscribe at any time. And please know your email address
is safe with us. We will not share or sell your email address or
personal information to any person, organization, or third party.

Give and Take with Adam Grant
About the just-published Give and Take: A Revolutionary Approach to Success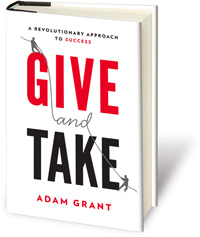 Give and Take changes our fundamental ideas about how to succeed--at work and in life. For generations, we have focused on the individual drivers of success: passion, hard work, talent, and luck. But in today's dramatically reconfigured world, success is increasingly dependent on how we interact with others. Give and Take illuminates what effective networking, collaboration, influence, negotiation, and leadership skills have in common.
Using his own groundbreaking research, Grant examines the surprising forces that shape why some people rise to the top of the success ladder while others sink to the bottom. In professional interactions, Grant has discovered that people generally operate as takers, matchers, or givers. Whereas takers strive to get as much as possible from others and matchers aim to trade evenly, givers are the rare breed of people who contribute to others-- without expecting anything in return.
These styles have a dramatic impact on success. Although some givers get exploited and burn out, the rest achieve extraordinary results across a wide range of industries. This landmark book combines cutting-edge evidence with captivating stories, showing how one of America's best networkers developed his connections, why the creative genius behind one of the most popular shows in television history toiled for years in anonymity, how a basketball executive responsible for multiple draft busts transformed his franchise into a winner, and how we could have anticipated Enron's demise four years before the company collapsed--without ever looking at a single number.
Give and Take opens up an approach to work, interactions, and productivity that is nothing short of revolutionary. This visionary approach to success has the power to transform not just individuals and groups, but entire organizations and communities.
Advance Praise for Give and Take
"Adam Grant, a rising star of positive psychology, seamlessly weaves together science and stories of business success and failure, convincing us that giving is in the long run the recipe for success in the corporate world. En route you will find yourself re-examining your own life. Read it yourself, then give copies to the people you care most about in this world."
~Martin Seligman, author of Learned Optimism and Flourish

"Adam Grant is a wunderkind. He has won every distinguished research award and teaching award in his field, and his work has changed the way that people see the world. If you want to be surprised--very pleasantly surprised--by what really drives success, then Give and Take is for you. If you want to make the world a better place, read this book. If you want to make your life better, read this book."
~Tal Ben-Shahar, author of Happier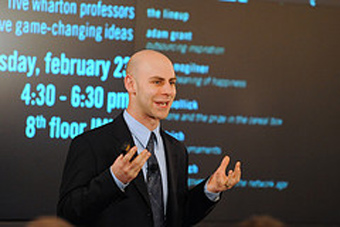 ABOUT ADAM GRANT, PhD
Adam Grant, PhD, is the youngest tenured professor at The Wharton School of The University of Pennsylvania, and a leading expert on success, work motivation, and helping and giving behaviors. He has been recognized as Wharton's single-highest-rated teacher, one of the world's 40 best business professors under 40, and one of BusinessWeek's favorite professors. He teaches management to aspiring business leaders, but his primary concern is for the success and well-being of people in organizations.
Adam earned his Ph.D. in organizational psychology from the University of Michigan, completing it in less than three years, and his B.A. from Harvard University, magna cum laude with highest honors and Phi Beta Kappa honors. At Wharton, he has been honored with the Excellence in Teaching Award for every class that he has taught. He has presented for leaders at organizations such as Google, the NFL, Merck, Microsoft, Goldman Sachs, IBM, the United Nations, the World Economic Forum, and the U.S. Army, Navy, and Air Force. He has appeared on CNN and CBC, and designed several experiential learning activities based on The Apprentice in which students have raised over $175,000 for the Make-A-Wish Foundation while developing leadership, influence, networking and collaboration skills. Before graduate school, he was also a record-setting advertising director at Let's Go Publications.
Adam's research has been featured in bestselling books, including Quiet by Susan Cain, Drive and To Sell Is Human by Daniel Pink, and The Happiness Advantage by Shawn Achor, as well as hundreds of media outlets, including The New York Times, The Wall Street Journal, Time Magazine, USA Today, The Financial Times, Oprah Magazine, and the Freakonomics blog. Adam has more than 60 publications in leading management and psychology journals, and his pioneering studies have increased performance and reduced burnout among engineers and sales professionals, enhanced call center productivity, and motivated safety behaviors among doctors, nurses and lifeguards. In 2011, he won the triple crown of prestigious scholarly achievement awards from the American Psychological Association, the Academy of Management, and the Society for Industrial and Organizational Psychology.
Adam was raised in the suburbs of Detroit, and immersed himself as a youth in video games and home basketball practice, feeling shy and awkward. At age 14, he set his sights on becoming a springboard diver, and after intensive training and coaching was able to become a state finalist, All-American, and two-time qualifier in the Junior Olympics, eventually coaching other divers in college. He addressed his social anxiety by developing strategies to cope more comfortably, and eventually realized that giving to others was a successful way of managing social interaction. Similarly, though he was once phobic about public speaking, he finally overcame this as a graduate student by forcing himself to lecture as much as possible, even handing out feedback forms so he could overcome his weaknesses. He is endlessly interactive, but still considers himself an introvert. Adam has practiced as a professional magician for well over a decade-be sure to check out his video on the book Give and Take, where he masterfully demonstrates his skill!
Adam's career choice in Psychology at Harvard stemmed from his exposure to such professors as Ellen Langer, Tal Ben Shahar, Philip Stone, and Brian Little, the last of whom became Adam's honors thesis advisor and mentor and illuminated how life as a professor could synthesize what Adam loved most about psychology, research, magic, and coaching: educating, inspiring, and making a difference in the world by improving others' quality of life. His high ratings as a professor come from his packed classes, where he introduces the element of surprise as a way to facilitate confrontation with the unexpected, and incorporates experiential exercises, interaction with mentors, and as little lecturing as possible.
Adam lives with his wife Allison and their two young daughters. While he spends endless hours giving to colleagues and students who recognize his consultations and interventions as "life-changing", he has dinner most nights at home and spends some afternoons shuttling his daughter to activities. But he also works late into the evenings, helping others collaborate and creating a network of success--through giving.
ADDITIONAL RESOURCES:
Major article on Adam's work in The New York Times Magazine. "Is Giving the Secret to Getting Ahead?" (3/27/13).
Adam on the Today Show, 4/9/13 (Video, :04:38)
Highly recommended 52-minute video of Adam at the Wharton Leadership Conference on Leading Quietly, discussing motivational techniques, introversion and extraversion, leading by doing, outsourcing, and listening. (Video, :52)
Adam is interviewed by Diane Rehm, 4/8/13 (Audo, :51)
Adam's Academic Website at the Wharton School
Adam's tools for self-assessment and tools for others to rate you
Adam's selected academic research articles, media coverage, and popular writing for leaders, managers, and practitioners
Washington Post article on Extraversion/Introversion and leadership
Students laud Adam's teaching methods in a Business Week article
and in Poets & Quants.